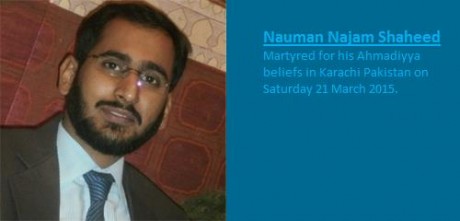 BREAKING NEWS: Murdered, in Pakistan, for being a … Muslim
Noman Najam, 30 yrs, gunned down at his computer hardware store 
Fakhar Lone, a Toronto-area resident, was hit today by the news that a 30 yr-old cousin, Noman Najam, had been murdered in cold blood, Saturday, March 21, 2015, in Karachi, Pakistan. Unknown assailants irrupted in Najam's computer store and opened fire. He apparently received 5 bullets and died while being rushed to the hospital. 
Najm was the President of the Karachi chapter of the Ahmadiyya Muslim Youth Association, well known for their humanitarian work in the city. He was unmarried, and leaves behind his elderly parents and two younger brothers. 
This is not the first time that someone from Najam's family was targeted. In 1974, the year that Ahmadi Muslims were constitutionally declared non-Muslims in Pakistan, Najam's two uncles and grandfather were martyred in the Anti-Ahmadiyya riots. 
Mr. Lone, who has lived in Canada for many years, says: "I was very disheartened by this shocking news. It is sad to note that despite these continuous heinous crimes, there are no changes happening in Pakistan." 
The National President of the Ahmadiyya Muslim Community of Canada, Mr. Lal Khan Malik, has also issued a statement saying, "Our thoughts are with the family. We pray that may God grant them solace and fortitude, and that He may bring to justice those responsible for this barbaric act." Mr. Malik added, "Regardless of the persecution faced by Ahmadi Muslims in Pakistan, we will continue to respond peacefully, by supplicating God and by seeking redress through lawful avenues."