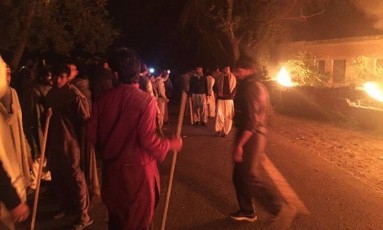 For Immediate Release
Contact:
Safwan Choudhry 
647-248-0191
mediarelations@ahmadiyya.ca
Canadian Muslim Community Condemns Mob Attacks on Ahmadi Muslims in Jhelum, Pakistan
Ahmadiyya Muslim Jama`at Canada denounces extremist mob attacks to destroy Ahmadi Muslim mosque and property, and refutes blasphemy allegations
 
The Ahmadiyya Muslim Jama`at categorically condemns the recent extremist mob attacks to murder Ahmadi Muslims in Pakistan and destroy their mosque and property, after a local man falsely accused Ahmadi Muslims of desecrating the Holy Qur'an. 
 
A violent mob of thousands was formed following the allegations, after which a chipboard factory belonging to Ahmadi Muslims was set on fire in Jhelum, with workers still inside. Police helped the Ahmadi Muslims escape, but not before the mob had attacked nearby homes belonging to Ahmadi Muslim families. 
 
The violence then spread to the nearby town of Kala Gojran, where a second set of rioters ransacked the Ahmadiyya mosque Baitul Zikr on Saturday. Ahmadi Muslims have faced decades of often deadly persecution in Pakistan. Last year, an elderly lady and two children were murdered in a similar incident in Gujranwala.
Ahmadi Muslims in Jhelum have previously received threats on a number of occasions.
 
National President of the Ahmadiyya Muslim Jama`at Canada, Mr. Lal Khan Malik, stated: "The discriminatory laws in Pakistan's constitution, which shelter perpetrators of such attacks with impunity against Ahmadi Muslims, are completely contradictory to international human rights laws." 
He added, "We call on both the Pakistani and Canadian authorities to take notice of these hate crimes on the basis of faith."